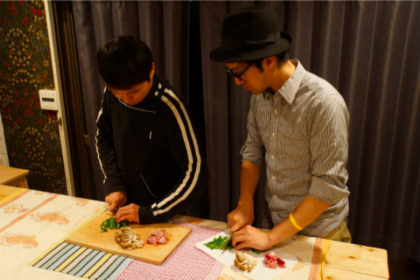 "Sukiyaki" has long been consumed in Japan for over 100 years since the "taisho" era. Do you know what the Japanese meal "Sukiyaki" consists of? "Sukiyaki" is a type of meal prepared in a "nabe" (Japanese for pot) with thinly sliced beef and vegetables that are all simmered in soy sauce and sugar in a shallow pot. When you bite into the meat, the juice flows instantly throughout your mouth filling it with sweet yet mildly salty sauce which all goes perfect with rice or beer. In this activity, you will learn how to make "Sukiyaki" and have it for dinner at the site. The stock Chef Yuki will be preparing that day will be made with special care, so you'll be able to taste an unrivaled quality of "Sukiyaki". Other than beef, "Sukiyaki" has other healthy ingredients in it that are common in Japan - such as long green onions, Chinese cabbage, "shirataki" (whitish strings of konnyaku), and fried tofu. We recommend you use this opportunity to eat your fill of "Sukiyaki" and master how to make it.
No Cancellation
Show Printed Voucher
Operating Hours


* Description * * Cancellation Policy * Free Cancellation, up to 1 Week Prior Full refund 7 days prior to your experience * Must be made 7 full days prior to 12:00 AM local time the day your experience is scheduled. For example, if your experience is scheduled for May 21st at 6pm, cancel by May 14th 12:00 AM in the experience's timezone for a full refund. * If you cancel less than 7 days in advance, the experience is non-refundable. If you still need to cancel your booking, you can do so from your Dashboard. Go to Dashboard > Your Bookings to find all your upcoming experiences. Click through to the booking you want to cancel; at the bottom, you'll find a reminder of the experience's cancellation policy and a button to cancel your booking. The experience's cancellation policy will determine whether or not you receive a full refund. Please note that your experience is only officially cancelled when you receive an email from us confirming the cancellation and your refund status.