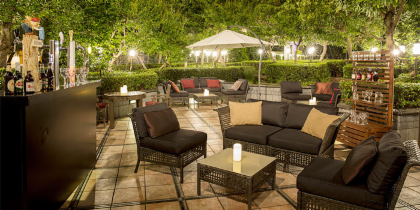 On hot, humid Tokyo summer nights, what could be better than a glass of cold beer in the breeze under the stars? Enjoy delicious food and cool refreshing beer with the all-you-can-drink plan at the Odaiba Craft Beer Garden of Hilton Tokyo Odaiba.
No Cancellation
Show Printed Voucher
Operating Hours


* Highlights * Enjoy 2 hour all-you-can-drink plan in a beautiful beer garden Booking online means guaranteed seats with no long waiting time! Food and drink included at discounted online price – no additional payment required Convenient English-language booking service and customer support * Description * * What you need to bring * N/A * Meeting Point * Odaiba Craft Beer Garden in Hilton Tokyo Odaiba, Tokyo * Cancellation Policy * Free Cancellation, up to 1 Week Prior Full refund 7 days prior to your experience * Must be made 7 full days prior to 12:00 AM local time the day your experience is scheduled. For example, if your experience is scheduled for May 21st at 6pm, cancel by May 14th 12:00 AM in the experience's timezone for a full refund. * If you cancel less than 7 days in advance, the experience is non-refundable. If you still need to cancel your booking, you can do so from your Dashboard. Go to Dashboard > Your Bookings to find all your upcoming experiences. Click through to the booking you want to cancel; at the bottom, you'll find a reminder of the experience's cancellation policy and a button to cancel your booking. The experience's cancellation policy will determine whether or not you receive a full refund. Please note that your experience is only officially cancelled when you receive an email from us confirming the cancellation and your refund status.