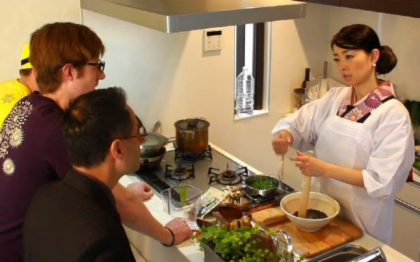 Experience traditional and authentic Japanese cuisine, otherwise known as a meal consisting of soup, three side dishes, and rice. A professional bilingual instructor will teach you how to prepare Washoku and explain the meal's history.
No Cancellation
Show Printed Voucher
Operating Hours


* Highlights * Learn to make authentic Japanese food using seasonal ingredients Learn from a professional bilingual chef English recipe will be included so you can try cooking it at home Optional ticket to the Robot Restaurant and a unique izakaya dinner * Description * * What you need to bring * N/A * Meeting Point * Minami-Aoyama, Tokyo (the exact place will be given to you after you book) * Cancellation Policy * Free Cancellation, up to 1 Week Prior Full refund 7 days prior to your experience * Must be made 7 full days prior to 12:00 AM local time the day your experience is scheduled. For example, if your experience is scheduled for May 21st at 6pm, cancel by May 14th 12:00 AM in the experience's timezone for a full refund. * If you cancel less than 7 days in advance, the experience is non-refundable. If you still need to cancel your booking, you can do so from your Dashboard. Go to Dashboard > Your Bookings to find all your upcoming experiences. Click through to the booking you want to cancel; at the bottom, you'll find a reminder of the experience's cancellation policy and a button to cancel your booking. The experience's cancellation policy will determine whether or not you receive a full refund. Please note that your experience is only officially cancelled when you receive an email from us confirming the cancellation and your refund status.