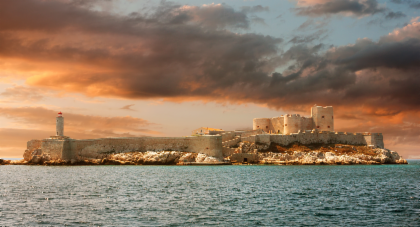 Step inside a literary classic when you visit the island fortress prison Château d'If, which was the inspiration for Alexandre Dumas' 1844 novel . Learn about the prisoners incarcerated here and get amazing views of the Vieux Port!Francis I of France mainly utilized the Château d'If to protect the Marseilles coast from invasion. Protestants and Republicans, plus anyone opposing official authority was imprisoned at Château d'If from 1580 until 1871. But the most famous prisoner here was undoubtedly Edmond Dantès, the protagonist of Dumas' novel . Unlike him, your stay at Chateau d'If won't be 14 years of unjust imprisonment. Instead, it will be a fascinating and picturesque single day. Travel over by boat and soak up the amazing views of the Vieux Port. Bypass the long line to the fortress and head inside to learn about the various political prisoners who were incarcerated here long ago, such as Mirabeau and the Communards of 1871 - proper revolutionary heroes.
No Cancellation
Show Printed Voucher
Operating Hours


Skip the line and see the inspirational venue behind Alexandre Dumas's 1844 novel The Count of Monte Cristo Visit the island fortress prison and get amazing views of the Vieux Port from the boat and the island itself Learn about the Protestants and Republicans incarcerated here and see old graffiti by past prisoners!