King Power 15% Discount Offer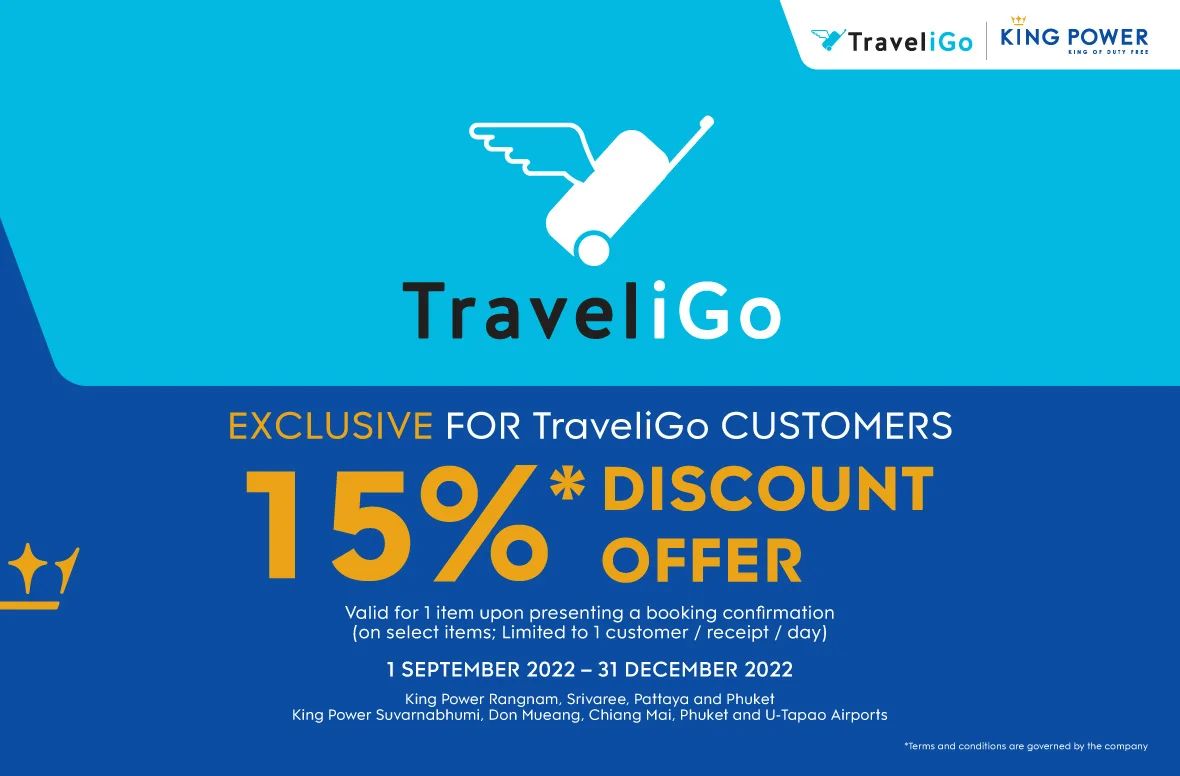 EXCLUSIVE FOR TraveliGo CUSTOMERS
15%* DISCOUNT OFFER
Valid for 1 item upon presenting a booking confirmation
(on select items; Limited to 1 customer / receipt / day)
1 SEPTEMBER 2022 - 31 DECEMBER 2022
@King Power Rangnam, Srivaree, Pattaya and Phuket
@King Power Suvarnabhumi, Don Mueang, Chiang Mai
Phuket and U-Tapao Airports
Terms & Conditions
ㆍTraveliGo customers are entitled for 15% discount on 1 duty free product.
ㆍValid for the purchase at King Power downtown stores; Rangnam, Srivaree, Pattaya and Phuket and King Power airport stores at Suvarnabhumi Airport, Don Mueang Airport, Phuket Airport, Chiang Mai Airport and U-Tapao Airport.
ㆍTo earn this privilege, simply present the accommodation/fight/excursion confirmation from TraveliGo.com (within 30 days of travel) and a passport to register for discount at King Power Member Service counter or cashier counter.
ㆍExclusive for TraveliGo customers only (invalid for tour group members, Thai and Chinese passport holders).
ㆍValid for the purchase of regular-priced purchase excluding liquor, tobacco, gold ornaments, jewellery, books, magazines, drugs, merchandise of the Royal Project, pet accessories, soft drinks, merchandise on Home Delivery programme. Some products are also subject to the brand's own terms and conditions.
ㆍDetails are available at retail points.
ㆍLimited to 1 customer /1 item / day.
ㆍOffer cannot be used in conjunction with any other cash coupon, discount card or any other promotion offer.
ㆍThis promotion is valid through 31 December 2022.
ㆍThe Company reserves the right to change terms and conditions without prior notice.
WWW.KINGPOWER.COM
KingPower CONTACT CENTRE 1631
Answer your questions. Just call us at
TraveliGo Tel.+66 (0)2 187 1008
TraveliGo @CentralPlaza WestGate Tel. +66 (0)2 005 3232
LINE ChatBot @TraveliGo or LINE @TraveliGo.com
Email booking@traveligo.com